you dream it
We can build it
For more than 10 years, Caleb Wohlsdorf has partnered with both homeowners and business owners in Rochester and Southeast Minnesota on every kind of construction project. Attention to detail, creativity, and exceeding the expectations of every client are the foundational values of Wohlsdorf Builders. Every project begins with a detailed conversation to understand the unique needs of every family or business, an honest discussion of the range of options for the project, and realistic timelines for project completion. 
Attention to Details Matter
There are so many options for homeowners out there for deck construction. At Wohlsdorf Builders, we believe in building decks that will last for as long as you own your home. We take the time before any concrete is poured to discuss your vision and select the right combination of materials to balance your budget and your preferences. After the design process, we complete all of the paperwork, order the materials, and complete all aspects of the build. Throughout the process, we encourage open and honest communication. The satisfaction of our clients is our highest priority.
Decks
Based on a customer-centered process, we guide you through all of your design, material, and add-on options.
Full-Service Support
After you approve the design, we handle all of the permits, supply ordering, and inspections so you don't have to sweat the details.
Flexible Materials
To optimize your budget, we work with the full range of decking materials including Trex, cedar, and green-treated wood.
Fine Details
We believe your deck should be as beautiful as it is functional. That's why we add design elements to ensure your deck stands out.
Innovative Lighting
We seamlessly integrate lighting elements into your deck such as adding lights into railings and illuminating steps.
Creative Add-ons
We realize that every deck needs to be built around how your family will use it. We can customize grill bump-outs, benches, counters, and more.
Nestled alongside of the back of the house, the deck has multiple zones for the family to utilize and has stunning lighting for Summer evenings.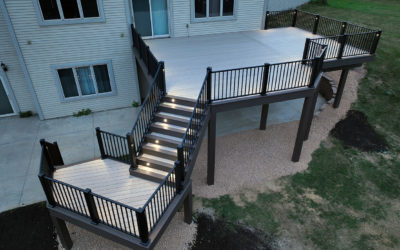 This deck was so fun to work on. Amazing family with a grand vision for their outdoor space.
This wrap-around deck on Cascade Lake in the heart of Rochester is the perfect place to soak in the scenery of non-stop lake views.